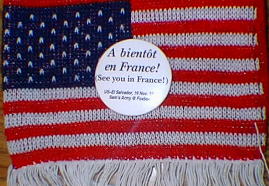 US Men's National Team
World Cup Qualifier 1997
Bon Voyage USA!
On Monday, November 10th, the US flew into Boston's Logan Airport and close to 50 members of Sam's Army and the Midnight Riders were on hand to welcome the latest qualifier's for the 1998 World Cup in France. The Revolution and New England's own, Mike Burns, was glad to return home with the pressure off and looked forward to the week.
Nov 14 - "The Weather...Again"
I had hoped to start this page off with a player interview following the glorious "golden point" tie in Mexico and win in Canada. However, Mother Nature remembered that old New England adage, "Don't like the weather? Wait a minute and it will change". MLS Cup `96 was played in a monsoon and its' memory lingers. If the game against El Salvador had meant something to the US in terms of qualifying standings, the weather was doing its part to create an advantage for the "Sammers".
The first snow storm of the 1997-98 winter season dumped more than half a foot on my front door. The drive to Norwood to pick up game credentials normally takes an hour, today it took 2 hours and 45 minutes. After chatting with Soccer America's Ridge Mahoney about the weather (it was raining in Norwood and points south), Greg Weir and I decided to see what was going on at the Biltmore Hotel in Providence (the US practice lasted 30 minutes that morning before the slush took over and the prospect for a Saturday practice at Foxboro looked bleak).
Providence is Greg's old stomping ground so I heard the story of everything; the Biltmore, the pot holes, the mafia, the cracks in ever piece of cement... Since he had to do some business at Brown University, I crawled out of the rain, into the Biltmore's lobby and took refuge with the Wall Street Journal. Cello, Kasey Keller and some others were heading out and I didn't want to impose on the players free time. Greg returned and we headed north back into the snow. It took close to 5 hours to return the 100 or so miles...
Nov 15 - "When Saturday Comes"
Big Dog (Jim Welch), a Sam's Army stalwart organized a get together to watch soccer at Bad Abbott's in Quincy, MA. Bad Abbott's is the legendary hangout of Aidan Heaney and is a traditional Scottish pub. Big Dog and the other doggies feasted on World Cup Qualifiers (Hungary - Yugoslavia, Ireland - Belgium, Italy - Russia) in anticipation of the US' final `98 qualifier.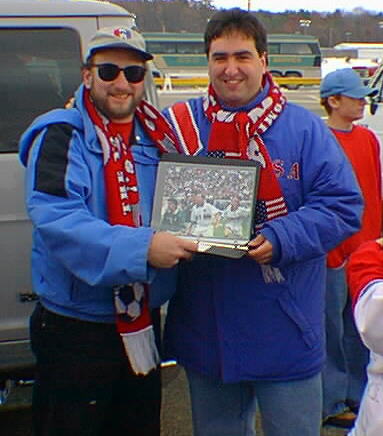 Presenting Mark Spacone with an autographed picture (Dooley & Lalas) from the April 20th qualifier against Mexico.
Nov. 16 - "Match Day"
Mother Nature had dumped the white stuff on Foxboro stadium during the weekend and late Saturday evening newscasts featured ads to show up at the stadium and shovel it out for $10.00 an hour. Someone mentioned at the tailgate that the USSF wasn't too happy to see that bill. The forcast called for diminishing temperatures, wind chill of 15 degrees to zero with flurries mixed in for good measure.
The Sam's Army / Midnight Riders Tailgate:
Food and Beverage Crew: Mark Hall - Sea Dog Brewing, Jeff Patterson, Jon Johanson, Amy Ross. Everytime you looked, there seemed to be more beer!
Cooks: Steven J. Dreibelbis, Greg Weir, Ben Fitts, Dan Mallon-Kraft, Russ Campbell, Jeff Patterson, Nat Alderman
The Food and Beverage Menu




Crudite:
         Sampson Canada Dry Raspberry Sparkling Water
         Lalas Trailmix
         Wegerle Carrot Sticks
         Dooley Party Mix
         Preki Fat Free Chips
         Vasquez Nacho Chips
               
The Main Courses:
         Wynalda Cheeseburgers
         Moore Hamburgers
         Burns Burger Rolls
         Stewart Chicken Sandwiches
         Reyna Hot Dogs
         Friedel Cheese Dogs
         Pope Dog Rolls
         Balboa Garlic Dog Rolls
         Harkes Compliment of Condiments: Ketchup or catsup?
         Caligiuri Fried Chicken
         The Midnight Riders Pot of Luck in France Entrees




Beverages
         Keller Cola
         Jones Assorted Juice Cocktails
         Sorber Diet Soda
         Agoos Apple Juice
         Sea Dog Brewing Products for Adults





The tailgate was kind of crazy with the snow and all.
Thanks to: Marci, Craig and Al Perillo at the Revolution, Mark Spacone for his divine guidance, Mark Hall and Sea Dog Brewing, Central Paper Products Co., Inc. for the paper goods, Greg Weir for the gas grill, Phil Vezina and Ben Fitts for their grills and all the Riders for bringing extra stuff.
Sam's Army is ready. from ESPN World Wide Soccer's Rob Stone uses the Fort as a back drop for a piece on Sam's Army. Poor Rob missed the first 3 goals shooting video. The USSF doesn't use the JumboTron to show the game and replays, it uses it to display the US Soccer logo. Why didn't we get to see those huge Nike US Soccer players either? Goal! (and I'm FREEZING!). Sammers cheer another US Strike. Next stop : France
Some wonderful memories filed away: Getting home and watching Big Dog eating (and spitting out) the snow (one of the digital pictures above) and the ESPN mobility camera catching the same thing from a different angle. Getting back to the car and wondering why someone was jumpstarting my truck (thanks to whoever it was!). All the coverage ABC gave Greg, Norm and Tim. The "Friedel Needs Work" chant.
The Sam's Army / US Soccer Pictures Pages Copyright Copyright Copyright © 1995 - 2014 by Fred Kfoury III All rights reserved, all wrongs reversed I am not associated with US Soccer but am deeply indebted to everyone at the the Federation for their help. Please do not copy this page, its pictures or content without my permission, thanks!